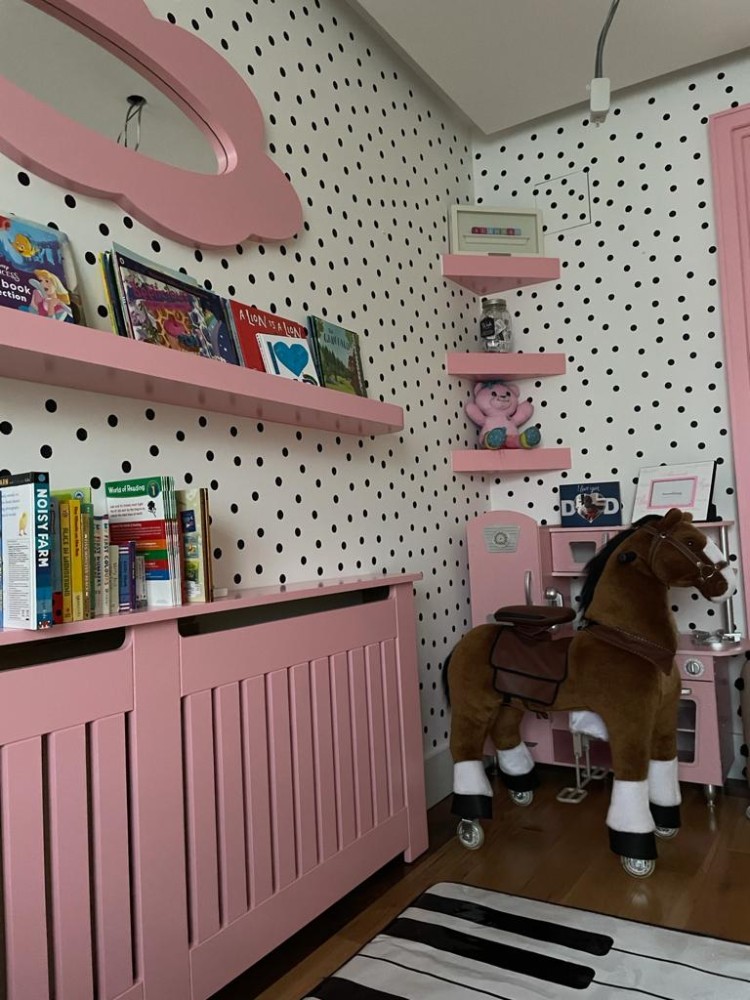 Custom Kids Playroom, Artane
Project Description:
This kids playroom renovation project was all about fun and family, delivering a genuine space for imagination and inspiration!
The first 2 images are the designs provided by a well-published third party interior designer and show the concept of the room.
Containing the Chaos of Playtime
The room was originally being used as a games room that was not being utilised to its potential, and  the customer wanted an inspiring space that could contain & contribute to the chaos of their children's' play.
Full of Features
Everything in this refurbishment was made to spec with a host of features designed to incorporate and inspire the children's personalities.
The entire room was designed and finished with vibrant and engaging colours and patterns, with the hand painted polka dots covering the walls.
The room's fireplace was entirely reconstructed, enlarging it to provide a recessed seating nook for kids.
Deep fitted storage units were installed to hold toys and teddies of all sizes and the names of children's favourite toys were engraved on the front of drawers.
The mounted tv area helps to maximise the space for play along with pocket doors that slide into the walls so as not to waste any space.
Windows on the doors also allow for the feeling of personal space while also allowing the children to be supervised from the adjacent kitchen.
Time To Complete
The entire project was completed in just 6 weeks, including design, manufacture and install.
Get A Quote
If you need a quote on your next custom furniture project or help with bringing an idea to life click here to contact us online, call us on 01 223 4909, or email info@gtcarpentry.ie to arrange a call out.